Handling and Use of Gas Cylinders and Equipment
When moving and storing cylinders, make sure the cylinder valves are closed, caps are on, and the space is dry. If acetylene is being used, properly ventilate. Tilt and roll on bottom edges. Avoid dropping. Cylinders must be secured in a vertical position.
Remove regulators unless secured on a cylinder cart and have a 10 pound ABC rated fire extinguisher on cart. Remove regulators from oxygen/acetylene cutting assemblies/rigs unless properly secured on a cylinder cart. Note: Regulators are to be removed from the cylinders after use unless it can be determined that the cutting assembly/rig will be in use within the following twenty-four (24) hours.
When hoisting cylinders, use pallet, cradle, or sling board. Do not use choker sling or magnet.
When cutting or welding, protect cylinders from sparks, hot slag or flame by separating them, or use fire-resistant shields or blankets
Use friction lighters (not matches, cigarettes, etc.) to light torches.
When work is finished or cylinders are empty, make sure cylinder valves are closed and the caps are on the cylinders
Store regulators, hoses, etc. in a clean, dry, well ventilated space.
Oxygen and acetylene cylinders must be separated by a fire wall or a minimum of 20 feet when in storage.
Flashback safety valves must be used on all hoses and lines at the gauges and manifolds.
Handling and Use Welding Equipment
Only standard electric arc welding equipment such as generators, motor generator units, transformers, etc., conforming to the requirements of the National Electrical Manufacturer's Association or the Underwriters Laboratory, Inc., or both, should be used.
All electric welding machines must be properly grounded, and all electrical cables inspected prior to use for damage, excess fraying and loose connections.
Where it is necessary to couple several lengths of cable for use as a welding lead circuit, insulated connectors should be used on both the ground and positive lead. There must be no splices or connections within 10' of the electrode holder (stinger).
Wherever practicable, shield anyone in work area from the direct rays of the arc. Barricade hot material with a fire blanket or other non-combustible tarp.
Regulators and gauges must only be repaired by qualified suppliers.
Inspect the work area and look for potential hazards. Move combustibles within 35 feet of the work area away from the work area. If combustibles can't be moved, cover them with a non-combustible tarp. Make sure equipment is in good working order.
Make sure a fire extinguisher is nearby. Post a fire watch if conditions warrant. Make sure a multi-rated dry chemical fire extinguisher is nearby. If aluminum, magnesium or other combustible metals are being welded, a Class D – Metals fire extinguisher needs to be directly available.
Perform atmospheric testing if the potential exists for flammable gases or vapors in the work area. Also be aware of combustible dust (sawdust, aluminum chips etc.). Provide ventilation if needed. Perform periodic gas tests if needed. Perform atmospheric flammable/combustible gas test if needed
Cover manholes, pits, sewers, doors, windows, wall cavities, floor openings and any other openings where it would be possible for a spark to fall and create a fire.
Shield nearby workers from flash burn. Communicate fire, burn and flash burn hazards to them.
Make sure you don't negatively affect other operations and equipment nearby.
Make sure you know the location of the nearest phone and fire alarm pull station.
17TH APRIL 2020
BY: HALIMA FROST
REPORTER
Gas-to-power solutions provider Sustainable Power Generation (SustainPower) says the adoption of its cleaner, environment-friendly liquified petroleum gas (LPG) and natural gas generators that are available to homes and businesses in South Africa has been quite successful – to the extent that the company will soon expand operations.
SustainPower, based in Cape Town, and with one branch in Johannesburg, plans to establish distributorships across South Africa and across its borders.ADVERTISEMENT
The company provides sustainable energy solutions for demanding locations using gaseous fuels and solar energy for power generation. The company has also extended its focus from large-scale industrial and commercial gas-to-power solutions to providing homes and businesses with clean, emergency backup power solutions.
SustainPower understands that grid power availability has become an uncertainty in South Africa, and during times of crisis, there are serious doubts regarding the country's ability to cope with power generation. ADVERTISEMENT
The company explains that, for the past year, load-shedding has been affecting small to medium-sized businesses negatively, and interrupting households.
Many of these businesses close their doors during load-shedding and simply wait it out, "losing revenue while watching their customers walk past closed doors."
Other business owners have used less favorable generators, often causing – in the case of restaurants – an unpleasant atmosphere for customers.
Owing to its partnership with generator manufacturer Pramac, now part of backup- power generation equipment company Generac, SustainPower can offer the gas-powered generators to the African market.
SustainPower enthuses that these gas-powered emergency backup generators are available for households and small to medium-sized businesses, without the noise and maintenance of its diesel or petrol counterparts.
The LPG option offers a cleaner advantage for homes and small to medium-sized businesses, such as restaurants, which are impacted by load-shedding. The units are simple to use and require little maintenance, with many South African homes and restaurants equipped with an LPG installation to connect the generator.
Residential and commercial areas with natural gas supply enjoy an even greater benefit, as natural gas prices are significantly lower than those of the other fuel options.
Using LPG is cleaner than diesel, and the gas generator's suitability for applications other than those in the commercial sector make it an attractive option in the South African market, says SustainPower COO Ames Martin.
He suggests that adding a small, reliable gas generator is a simple process, and the company's turnkey offering means that the company facilitates the entire process for the client.
The SustainPower standby product line ranges from 8 kVA to 500 kVA. The residential and commercial generators use small, air-cooled engines made in the US by Generac.
"During a power crisis, SustainPower is there for you with clean and reliable emergency power," concludes Martin.

EDITED BY: ZANDILE MAVUSO
CREAMER MEDIA SENIOR DEPUTY EDITOR: FEATURES
Can demand double in five years?
South Africa has very low per capita LPG consumption relative to its income level, indicating very high market growth potential. A series of recent developments has led IHS Markit to revise its long-term LPG demand forecast for South Africa to reflect our expectations for accelerated market growth.
A new Gas Master Plan is being developed; although few details have been announced, some of its objectives have been made public. These objectives include increasing the share of natural gas in the power generation fuel mix, doubling LPG consumption in five years (for cooking, space heating, and water heating), and promoting local manufacturing of gas cylinders and appliances.
Infrastructure constraints and pricing issues at both the wholesale and retail level have historically been the key barriers to growing South Africa's LPG market. The infrastructure required for LPG distribution is far less capital-intensive than LNG or pipeline gas, so we see opportunity for near-term market growth even with relatively basic regulatory reforms and investment.
In July 2020 South Africa implemented a reform to wholesale LPG pricing to switch from a price formula linked to local gasoline to a system in which the Maximum Refinery Gate Price is set according to the Saudi Aramco contract prices for propane and butane plus a freight cost to be calculated and published by Argus. This will facilitate increased imports as importers can be better assured that local prices will align with the prices they must pay in the international market.
Given limited domestic production, South Africa will need to rely on imports to grow its LPG market. Future development of the upstream oil and gas market could significantly boost the LPG market, since it could increase domestic LPG supply from gas processing. In November 2020, a new import terminal at Richards Bay began receiving cargoes. Project proponents Petredec and Bidvest estimate that throughput can reach as high as 200,000 metric tons per year.
We expect new import infrastructure and pricing reform to lead to rapid market growth over the coming five years, with LPG capturing latent market share and demand reaching 10-15 kilograms (kg) per capita. This will allow residential/commercial demand to grow rapidly, from under 300,000 metric tons per year currently to over 600,000 metric tons per year by the late 2030s. The total market may not double in five years as envisioned in the Gas Master Plan, but we do think it will be possible for the largest and most important demand segment to come close to this benchmark.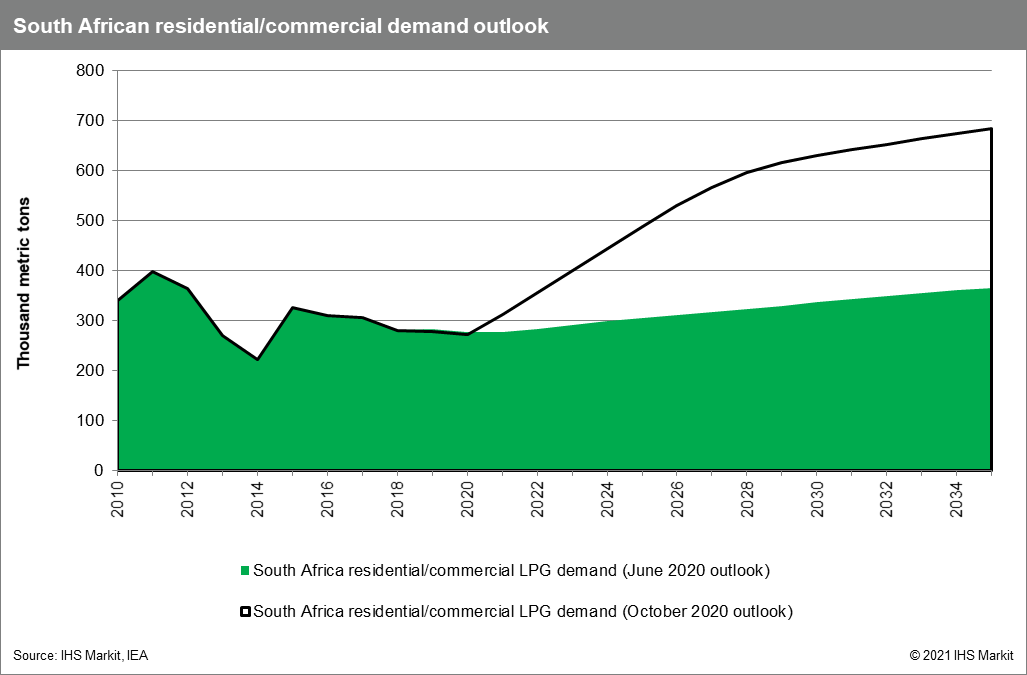 After 2030, IHS Markit expects a return to slower growth (barring further market changes). The key factor underlying this outlook is the expectation that South Africa will continue to face economic challenges that will prevent rapid increase in per capita GDP and keep most households in the country from reaching the point at which LPG becomes an easily affordable option. Boosting demand beyond 10-15 kg per capita will require addressing these affordability constraints. This could be either via increased competition and efficiency in distribution reducing retail prices, or through implementation of a subsidy. If changes like this occur in the coming five years, we will again revisit our expectations for the long term.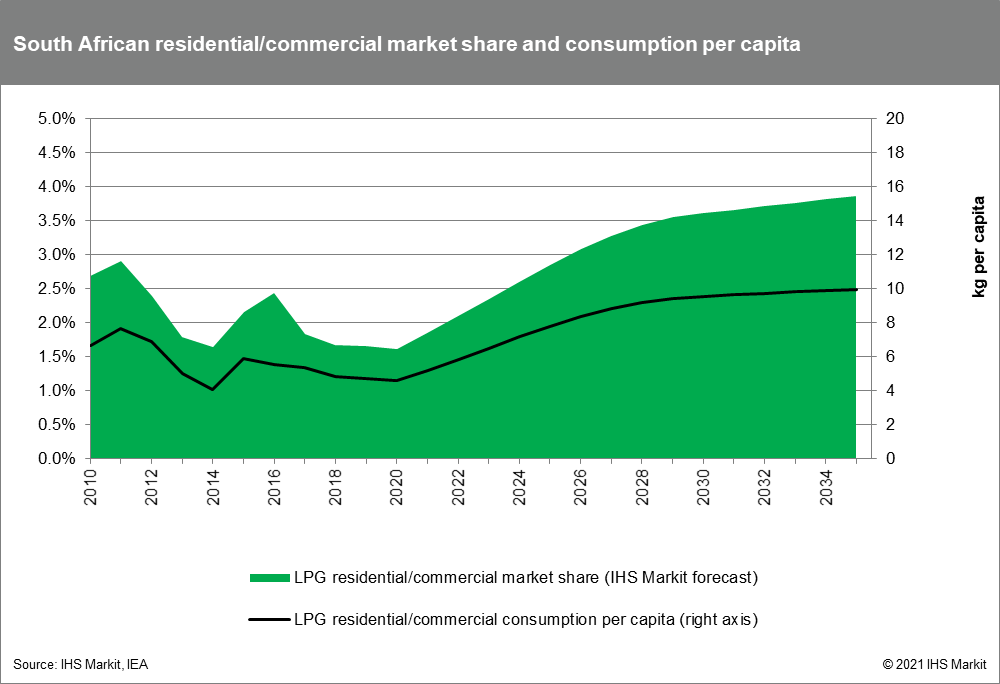 Gain greater insight into global and regional NGL and LPG markets with IHS Markit Midstream Oil and NGLs research. Learn more here.
Posted 21 January 2021 by Keefer Douglas, Director, Midstream Oil and NGLs Research and Consulting, IHS Markit