Spotlight on the South African LPG market
Can demand double in five years?
South Africa has very low per capita LPG consumption relative to its income level, indicating very high market growth potential. A series of recent developments has led IHS Markit to revise its long-term LPG demand forecast for South Africa to reflect our expectations for accelerated market growth.
A new Gas Master Plan is being developed; although few details have been announced, some of its objectives have been made public. These objectives include increasing the share of natural gas in the power generation fuel mix, doubling LPG consumption in five years (for cooking, space heating, and water heating), and promoting local manufacturing of gas cylinders and appliances.
Infrastructure constraints and pricing issues at both the wholesale and retail level have historically been the key barriers to growing South Africa's LPG market. The infrastructure required for LPG distribution is far less capital-intensive than LNG or pipeline gas, so we see opportunity for near-term market growth even with relatively basic regulatory reforms and investment.
In July 2020 South Africa implemented a reform to wholesale LPG pricing to switch from a price formula linked to local gasoline to a system in which the Maximum Refinery Gate Price is set according to the Saudi Aramco contract prices for propane and butane plus a freight cost to be calculated and published by Argus. This will facilitate increased imports as importers can be better assured that local prices will align with the prices they must pay in the international market.
Given limited domestic production, South Africa will need to rely on imports to grow its LPG market. Future development of the upstream oil and gas market could significantly boost the LPG market, since it could increase domestic LPG supply from gas processing. In November 2020, a new import terminal at Richards Bay began receiving cargoes. Project proponents Petredec and Bidvest estimate that throughput can reach as high as 200,000 metric tons per year.
We expect new import infrastructure and pricing reform to lead to rapid market growth over the coming five years, with LPG capturing latent market share and demand reaching 10-15 kilograms (kg) per capita. This will allow residential/commercial demand to grow rapidly, from under 300,000 metric tons per year currently to over 600,000 metric tons per year by the late 2030s. The total market may not double in five years as envisioned in the Gas Master Plan, but we do think it will be possible for the largest and most important demand segment to come close to this benchmark.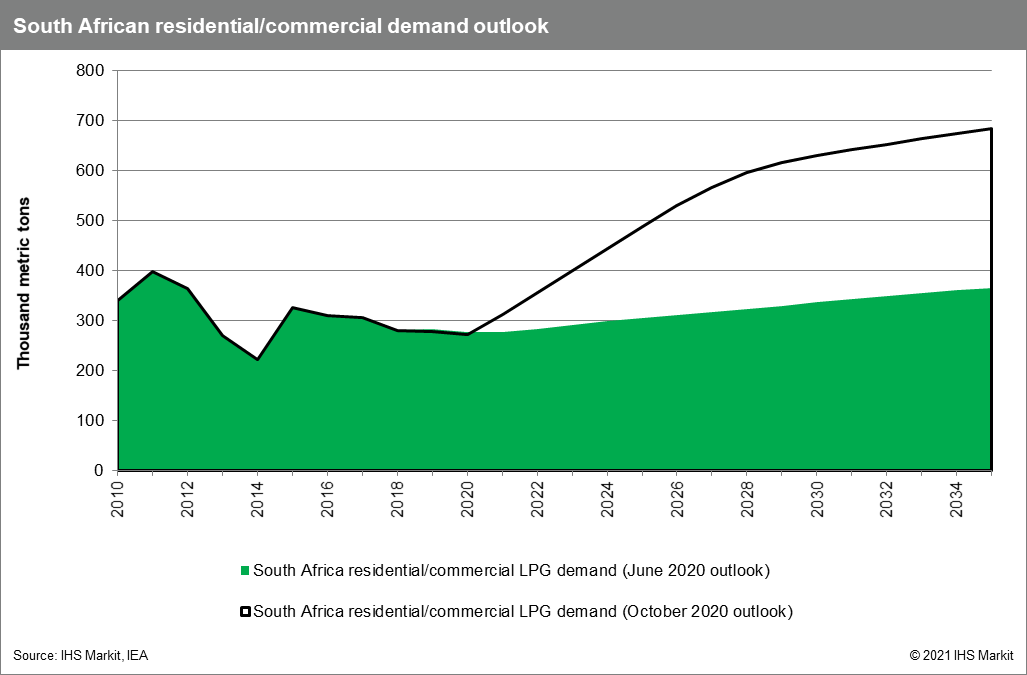 After 2030, IHS Markit expects a return to slower growth (barring further market changes). The key factor underlying this outlook is the expectation that South Africa will continue to face economic challenges that will prevent rapid increase in per capita GDP and keep most households in the country from reaching the point at which LPG becomes an easily affordable option. Boosting demand beyond 10-15 kg per capita will require addressing these affordability constraints. This could be either via increased competition and efficiency in distribution reducing retail prices, or through implementation of a subsidy. If changes like this occur in the coming five years, we will again revisit our expectations for the long term.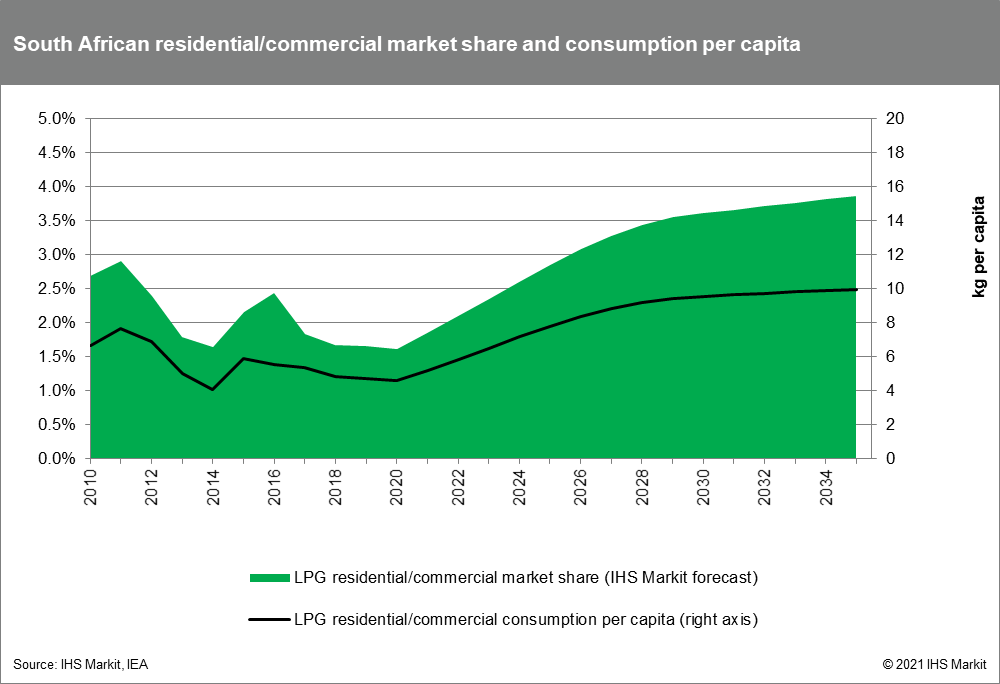 Gain greater insight into global and regional NGL and LPG markets with IHS Markit Midstream Oil and NGLs research. Learn more here.
Posted 21 January 2021 by Keefer Douglas, Director, Midstream Oil and NGLs Research and Consulting, IHS Markit